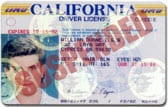 Driving on a suspended driver's license is a DMV violation and can also be charged as a criminal offense. There are various crimes a person driving on a suspended license can be charged with, including driving without a valid driver's license, knowingly driving on a license that has been suspended or revoked, knowingly driving on a license that has been suspended because of a DUI conviction, and being a habitual traffic offender. The right defense depends on the facts of your case. But the bottom line is that license violations can have significant consequences for you.
Driving on a suspended or revoked driver's license can result in high fines, points on your driving record, probation, even jail time. Significantly, with each driver's license conviction the penalty becomes even more severe so that people sometimes feel like they are being set up for failure with increasing fines and DMV points making them unable to get their license back.
Alanna Coopersmith not only aggressively fights against criminal charges, but advocates creative solutions to putting you on the path to getting your driver's license restored.